C a b o. W o r k o u t s.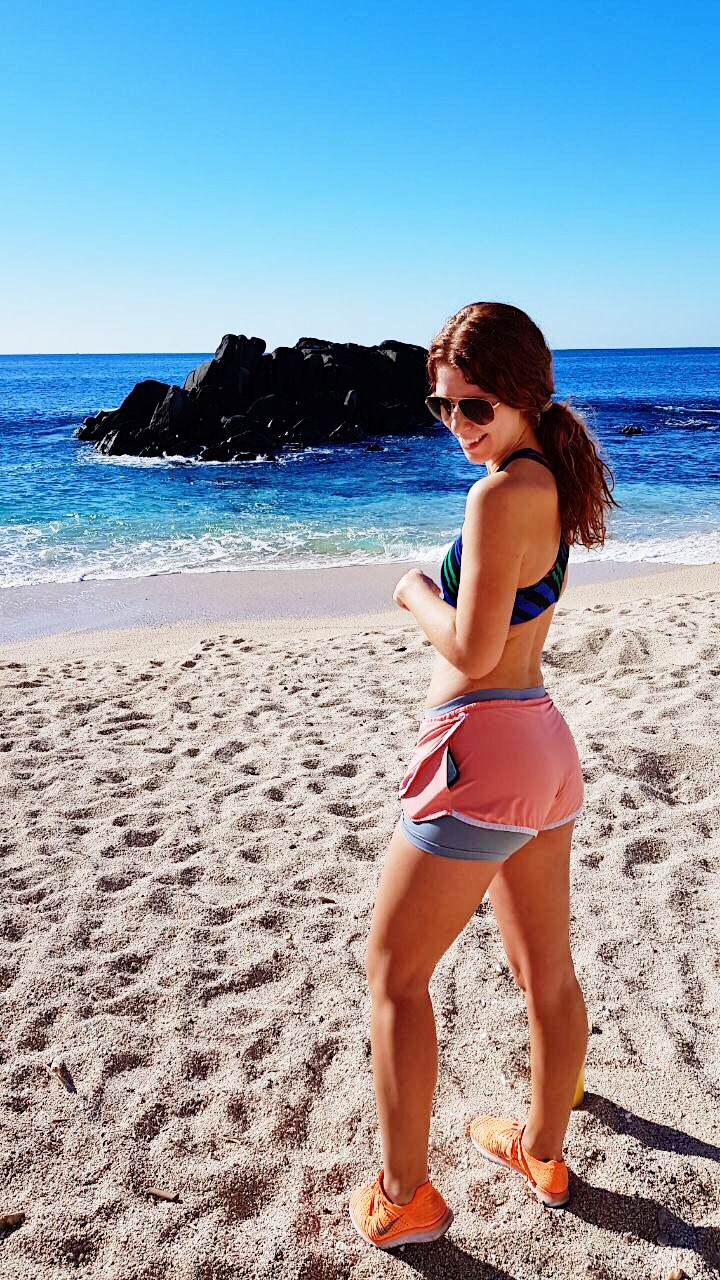 First of all, Happy New Year to everyone! I hope everyone enjoyed the holidays however you spend them. As most of you know I basically spend a week a month with my boyfriend in Cabo, and for those of you who don't know, I really try to stay fit to keep a beach bod since I eat and drink whatever the hell I want.
With trying to stay fit comes workout clothes!!! If you're like me, you hate spending hard earned money on clothes that are gonna permanently smell like sweat after awhile. However, there are a few staples that I will gladly spend some money on.
Starting with my running shoes. I found these a few years back and I love this style and fit so much for the type of exercise that I do. I wear nike free run 4.0. (I also like the 3V somethin's but I don't think they make those anymore.) I wear a shit ton of black as most of you know, with a pop of color and my favorite pop of color are my bright orange shoes. They're the shit, here's where you can buy them in quite a few colors. Unfortunately, I can't find my tangerine ones online, and belive me it's hard to find them in store also. I go to the Nike store in Las Vegas and they almost always have this color, but it's not an option on the website.
My running shorts. They're also Nike! After playing volleyball for years I love running in spandex so of course Nike Pro's are my fav but I recently found better ones. They're these Nike pro shorts with a short over top that has a pocket and kinda hides your butt. Nike doesn't have the ones I have anymore but they carry a newer version that looks way cuter too. Here they are and it seems that they come in a few colors.
One of the most essential parts of my work out attire in Cabo and anywhere else I work out and whatever kind of work out I do, I wear one type of sports bra. That is the Nike Indy sports bra. Now on their webiste they have so many versions of this that have different material or a different backline or a different level of support. I have the cooling one and their origional Indy bra. Here is the link to all the Indy bra's they have on their site. I reccomend all of them, that is if you're like a C-cup and smaller.
P.S. In these photos of me, I am not wearing my Indy bra's because they are currently in the laundry so I'm just wearing an old one, so old that I don't even know the brand. THAT means you definitely HAVE to go look at the Nike Indy bra that I love.
I reccomend all these items for exercise if you run at all and I reccomend the bra to everyone (that is more or less a C-Cup or smaller)!
Oh! Another P.S. I'm wearing my Gucci sunglasses and I'm using a cute new water bottle you can find here.
xoxo
Zo